Panic Forces Nikkei To Stop Trading, World Bourses Nervous As Bad Economic News Shoots Higher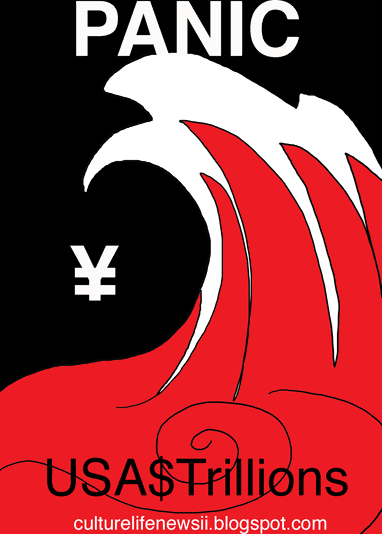 By Elaine Meinel Supkis
It isn't just one Backdoor Livedoor action that is roiling world stockmarkets. The futile and dangerous move of pumping an extra $60 billion dollars into the American stockmarket by the fools running the Feds is fueling dangerous currency/trade/market forces. Like a hurricane over warm waters, the forces at work here are ratchetting upwards rapidly.
From Marketwatch:
A plunge in Tokyo so severe that the market had to close early further unsettled investors. The decline is an extension of losses triggered Tuesday by a probe into Japanese Internet company Livedoor. .

The Dow Jones Industrial Average ($INDU:
10,841.35, -54.97, -0.5%) were just off a morning low of 10,831.32, down 57 points at 10,839.33.

The Nasdaq ($COMPQ:
2,273.50, -29.19, -1.3%) tumbled to a two-week low, sliding 29 points to 2,273, hurt by a broad decline in technology stocks.

The S&P 500 Index ($SPX:
1,274.86, -8.07, -0.6%) dropped nearly 8 points to 1,275.

Wednesday's weak batch of earnings raised questions about what to expect from the bulk of companies still set to report results, according to John Hughes, managing director at Epiphany Equity Research.

"You've haven't really had any good earnings reports just yet and after the big run-up, you're going to have a lot of people questioning whether or not there is valid, fundamental support," he said.
Good hellish grief. I know only a few people bother reading my blog but this is just plain ridiculous.
Panics classically begin when one or three or ten companies are discovered to be Enrons and they tip a tipsy market over the edge into true fatal hysteria only when certain conditions are ripe for a bad fall and if we ain't there yet, we will be very, very soon.
From Marketwatch;
The consumer price index fell a surprising 0.1% in December as energy prices continued to fade from the spike in September, the Labor Department reported Wednesday. Read the full report.

The CPI fell 0.6% in November.

Core prices - which exclude food and energy prices - rose 0.2%, as expected, for the third month in a row.

Economists were estimating that the CPI rose 0.2% in December, according to a survey conducted by MarketWatch. See Economic Calendar.

In 2005, the CPI increased 3.4%, not much different from the 3.3% increase in 2004. It was the largest year-over-year gain since the 3.4% increase in 2000.

Core prices rose 2.2% in 2005, matching 2004's gain.

"Inflation seems to have weathered the storm of rising energy prices," said Robert Brusca, president of FAO Economics.
Good hellish grief again. They need to believe this idiotic fairy tale so badly, they repeat it to each other on a daily basis.
Word price of fossil fuels jumped yet again this week based on the coming war in Iran, the war in Iraq that we are losing very badly now, the revolt in Nigeria, and the refusal to conserve oil in America. All this is sending prices through the roof
during an extremely warm winter!
How's that for bad news? And if anything goes wrong? To the moon, Alice!
I dig through the Japanese news and they have no analysis of what is happening, just describing the woes of only one company. But they are bound to America, they are part of us and the American/Japanese balancing act is a mutal death trip. One trips, the other dies.
The Chinese are beginning a big withdrawal based on the fact they must spend more money at home fixing the peasant base or die, themselves. All their wonderful schemes will fail if 700,000,000 peasants storm their palaces. Being hyper aware that this is a very real possibility, they will no longer feed the American deficit beast and will concentrate on homespending even if this means losing American markets which won't really bother them in the end since our market is nearly tapped out.
And why is that?
Well, the new credit card bills haven't come in the mail until right about...today! It is the second half of the month and the first 4% bills are arriving at 150 million mailboxes in America and 75 million of these letters will give some very hard-pressed people heart attacks. The first effect will be a screeching halt to spending as they frantically thrash about, looking for some solution. Then the howls will begin. If Americans have any guts or spine left, that is. Will we be as loud as the very noisy peasants of China? Dock workers of Europe? South Americans?
Are we mice or men and women?
From NBC:
The White House is refusing to reveal details of lobbyist Jack Abramoff's visits with President George W. Bush's staff.

According to Press Secretary Scott McClellan, Abramoff had "a few" such meetings. But the spokesman won't say when or with whom. Nor will he say which interests Abramoff was representing -- or how he got access to the White House.
Abramoff pleaded guilty two weeks ago to mail fraud and tax evasion charges in an influence-peddling scandal that's involved a dozen-plus members of Congress.

Abramoff was also a top fundraiser for Bush's re-election campaign -- and attended two holiday receptions at the White House.

Earlier McClellan promised a "thorough" report on the lobbyist's meetings with White House staff. But now he says he won't go beyond previous comments.
As usual when markets verge on depressions, the ruling class makes things worse by being venal, corrupt and illegal. And this is no exception. Bush is a corrupt clown, a criminal with a long arrest history, a coward and should be arrested and impeached and thrown in jail.
He had Greenspan throw some money at this developing problem without heeding the fact that the very worst thing one could do when a tornado of inflation is beginning to form is throw in more fake money. If inflation dies it will be because people will be dying, dying for lack of food, medicine, housing, jobs. Strangling this self-created inflation to keep the Wall Street/Housing bubbles inflated will kill lots and lots of living human beings. Make no mistake.
*************************************************************
Previous Similar Articles
*************************************************************
To return to homepage click here
To read more science news click here
Washington Pest