$60 Billion Boost From Feds Finished, Stock Market Super Decline On Bad News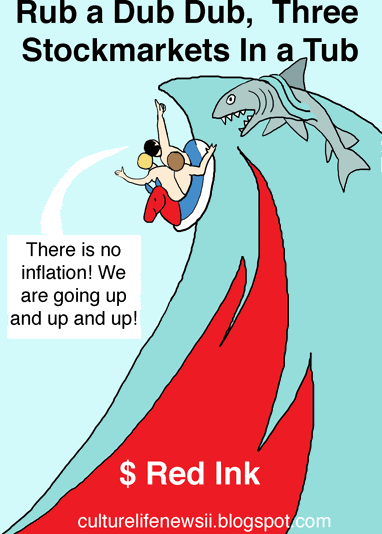 By Elaine Meinel Supkis
Unlike the Nikkei, there was no need to shut down trading but the gloomy day at the end of a dangerous week means more trouble next week. Bin Laden only attacks financial or diplomatic centers so Wall Street has lots to be gloomy about. Not to mention all that red ink which is like Lady Macbeth's manicure job.
Marketwatch:
U.S. stocks closed sharply lower Friday, with the Dow Jones Industrial Average turning negative for 2006 and posting its biggest one-day loss since March 2003, after oil prices hit a four-month high and General Electric Co. and Citigroup Inc. disappointed with their fourth-quarter earnings.


10,667.39, -213.32, -2.0%) closed down 213 points at 10,667.39, its lowest level in two months. The blue-chip index is down 50 points from its 2005 close and is 2.7% lower on the week.

The Nasdaq Composite Index ($COMPQ:

2,247.70, -54.11, -2.4%) slumped 54 points, or 2.4%, to 2,247, the worst one day performance for the tech-rich index since September 2003. The Nasdaq is down 3% on the week.

The S&P 500 Index ($SPX:

1,261.49, -23.55, -1.8%) dropped 23 points to 1,261 and is down 2% on the week.

"The market was overdue for a short term pullback and a combination of rising energy prices and some high profile earnings misses have provided the catalyst," said Michael Sheldon, chief market strategist at Spencer Clarke LLC.
Well, I would assume that Bush yapping about bringing WWIII down upon our heads and then immediately, old blow em up bin Laden joins in along with his number #2 sidekick and about 10,000 #3 side kicking Rockettes, all chiming in that war is an excellent outcome and we should all brace ourselves to howl at the moon. Warrrrooooo.
Well, Bush's Most Excellent Adventure is going to be fun! This is where we yell that we want to shut down a major oil pumping country and thus, disarm them, too. Well, today, the world announced they are ending their subsidizing the American oil monster, to keep us afloat, they gave us their oil reserves so we could motor around in our SUVs, sneering at everyone.
Well, world oil prices are climbing and the oil pumping nations are ceasing their headlong pumping, the Chinese already assured the Saudis that they don't have to drop world oil prices, China has a fricking trillion dollars in petro pennies so they can keep the price up and don't mind it one bit, even. So there!
The Saudis nearly went bankrupt during the nineties and they bought off all the unrest by raising the funds flowing to families there so they don't want to see oil prices collapse, they are afraid commerce will collapse but China assured them today that this won't happen, China is very happy to sign futures contracts covering the cost of oil at a higher price than the cheapskate Americans who want it below $21 a barrel, the Chinese said, the present price is perfectly OK.
Ahem. Our entire culture depends on cheap fossil fuels. Note how we are not struggling to formulate alternatives to this.
I was driving around last week when it was below zero, every house I passed at night, without exception, had no curtains closed over any windows. Windows, no matter what kind, are energy losers. Yet no one wanted to bother keeping out the cold. I have many windows on my passive solar house and you can bet, I have heavy curtains drawn at night in winter!
This la-de-dah attitude is going to be the death of us all. Instead of spending money on fine curtains, etc, we spend money on fossil fuels.
Meanwhile, we cook the books in the Iraqi "elections".
From the BBC:
raq's Shia-led United Iraqi Alliance has won the country's parliamentary elections, but failed to obtain an absolute majority.
The alliance took 128 of the 275 seats - 10 short of an outright majority. Kurdish parties have 53 seats and the main Sunni Arab bloc 44.

The Shias will now be expected to form a coalition government.

A number of Sunni politicians have alleged fraud, and international observers criticised irregularities.

Those who do not accept the results will have two days to appeal before they are certified as definitive.
Shades of the USA! Well, we can't complain they got what we don't have!
Obviously, the Shiites won a resounding majority which is why the data wasn't released for over a month! A month! During which the Sunni rioted and raged. So now, the books were cooked so the Shiites have to get an alliance with someone. As if this is going to stop the meltdown which is already raging like a Texas grass fire in winter.
We can't attack Iran unless we stabilize the Iraqi oil supply. Or our fake front stock market will be hammered brutally as well as the American people running around, screaming for Bush to be tarred and feathered over high fuel costs. Already, the grumbling is getting pretty loud. The American Home ATM machines are shutting down, one by one, as interest rates rise, inflation rages and of course, starting yesterday, everyone was getting their new minimum payment credit card bills. Oh my god.
Even the stupids advising people to buy, buy, buy in the stockmarket can't disguise that turkey. It is bigger than the float in the Macy's Thanksgiving Day Parade.
*************************************************************
Previous Similar Articles
Squeezed Between A Rock And A Hard Place
Super Rich Buy Super Yachts
Wall Street Booms While Middle Class Is On Edge Of Cliff
*************************************************************
To return to homepage click here
To read more science news click here
Washington Pest