Toyota Races Towards Number One World Wide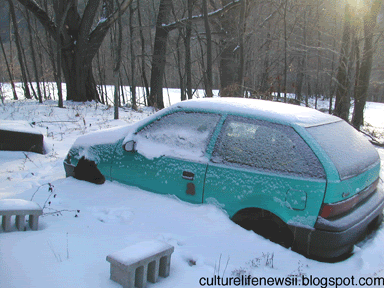 By Elaine Meinel Supkis
For many, many years, Ford and GM and other American auto companies dominated the world. Thanks to domestic sales to unionized workers and white collar middle class, we sold more cars than the rest of the world put together. The sun is setting on American owned/American designed auto industry and Japan is colonizing our country, building assembly factories like crazy in North America.
From the New York Times:
Toyota and General Motors will be in a neck-and-neck battle for the title of the world's biggest carmaker in 2006, a race that will pit the industry's strongest company against a struggling giant.

Toyota announced in Japan today that it planned to produce 9.06 million cars worldwide in 2006, a 10 percent increase for a company whose plants are now spread across every major continent.

General Motors has not forecast its production for next year; it had planned to build 9.1 million cars in 2005. However, G.M. has announced it will shut three plants in North America next year, part of a plant to close all or part of 12 plants through 2008.
Toyota isn't closing plants in Japan. They are merely building more over here to secure the market here. They are increasing output worldwide while General Motors is shrinking rapidly in the USA. The plants GM is building overseas or in Mexico isn't a good sign, it is a very bad sign for, unlike Toyota, this means they are abandoning their country of origin in search of cheap labor and easy profits. There is no way Toyota would do this to Japan. At the very least, the Japanese insure that cars made for Japanese people are made at home, period.
And, indeed, some analysts said G.M. could stay ahead of Toyota, given the American company's expansion outside the United States. G.M., which now makes more vehicles overseas than at home, plans major investments in China, which it wants to make its second-largest market, behind the United States.
The pretense will be, these factories will make cars for sale to the Chinese by you and I know these cars will end up here in America. The cars made in Mexico are sent up north already.
During the third quarter, for example, Toyota earned a $2.6 billion net profit. G.M., weighed down by heavy pension and health car costs, lost $1.63 billion, and some analysts expect it to lose as much as $5 billion on its North American operations this year.

Toyota has long been coy about its ambitions to become No. 1, preferring to stay out of the spotlight as it grows.
Now why is that? Isn't that odd, not! The reason they don't want us to be aware of the growing power they wield is because they don't want us to do anything! Duh! Our industrial kingpinheads all do dumb things because they really don't understand or care to understand what is happening to the world. Efficient, well designed vehicles have been thrown to the wayside by many Americans who simply wanted fast, fat, gas guzzling monsters so they could feel like brutal bullies. Crowd everyone out, king of the road, me, number one dude, dude!
Our love affair with the gas guzzler/mega bubble lifestyle runs head long into reality and is crashing the planet earth.
From the New York Times:
American emissions of greenhouse gases linked to global warming reached an all-time high in 2004, rising 2 percent from the year before, the Energy Department said, nearly double the average annual rate measured since 1990.
Great. Just great.
The Kyoto Accords negotiations just ended in Canada and we managed to mangle it all and even pretended we aren't so terrible, really, we have reduced pollution only this was all one big fat lie, as per usual these days under Republican controls. The Europeans and Asians want some sort of structure to cope with all this and we just want to guzzle to our heart's content. This is dumb because industries and countries that do curb pollution and prevent gas guzzling are flourishing and ours is dying.
The financial figures that has everyone so happy are dire. We now are in 100% deficit mode, running in the red within our companies, within our government, within trade. This troika usually ends up in causing a depression and this coming depression won't be a fun ride! The government, the financiers and industry owners all think breaking unions, dropping wages, suppressing or diluting labor will make them rich. This impulse to prevent workers from gaining any money or power always ends up in depressions when workers can't buy anything because they have no money.
Since Asia wants the American worker spending money, they lend it out to banks who then tack on a 21%+ interest and relend it to the fast fading workers who then go out shopping.
One reason the hurricanes didn't kill the economy....yet....is only because a boatload of money was lent to us to tide us over and some of this was handed out to the populace at large who then spent most of it on Christmas-style presents. Many of the people surviving the hurricane wanted to feel better so they bought inappropriate things. Now they need more money and it is getting harder and harder to get the government to give it to them. So that boost to the economy is about to end. Starting cold, hard January.
The budget cuts to aid programs set in after January. The money stream flowing to the lower classes is rapidly being shut off. And with the new bankruptcy bill, it will never open up again, either, since one can't "start over again" anymore except if one is very rich.
Then the government steps in and insures rebirth.
To return to homepage click here
To read more financial news click here
Washington Pest