Japanese Manipulate the Price of Gold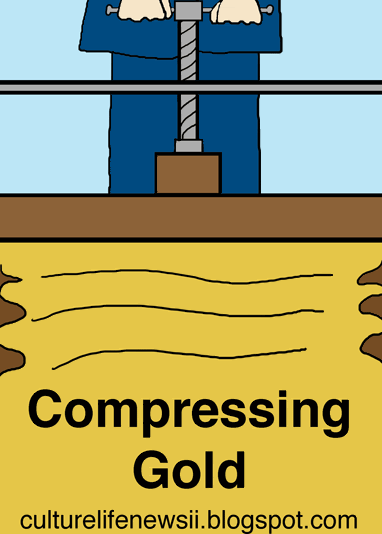 By Elaine Meinel Supkis
Suddenly, today, the world price of gold which has been climbing rapidly ever since our government went wild with printing dollars and world oil prices began to sprint to the high heavens, fell. This fall wasn't mysterious. It was premeditated and deliberate. The Japanese temporarily stopped gold from topping $600 to the ounce. This is part of propping up the dollar so the yen stays cheap.
From Bloomberg News:
Gold in New York plunged 2.8 percent, the biggest drop in a year, on speculation demand will slow from Japanese investors after the Tokyo Commodity Exchange increased the cost of trading the metal.

The Tokyo exchange, the world's second-largest metals and energy futures market, boosted minimum deposits for trades to curb speculation after gold surged to a 24-year high of $544.50 an ounce on Dec. 12. Gold sold in yen climbed 18 percent in the five weeks ended Dec. 9. Tokyo gold trading last month was the most since February 2003 at 1.92 million contracts.

Tokyo's higher margin payments have ``pulled some of the speculative interest out of the market,'' said Paul McLeod, vice president of precious metals at Commerzbank Securities in New York.

Gold for February delivery fell $14.60 to $509.50 an ounce on the Comex division of the New York Mercantile Exchange, the biggest one-day decline since Dec. 8, 2004, and the lowest closing price since Dec. 2. The metal fell 1.4 percent yesterday.
Every time there is some escape from relentless forces at work, governments redraw the boundries, reset the game and ream everyone out. Many people have been lied to about the ability of gold to protect oneself from currency manipulations.
I have always contended, this is a false hope for governments can and will and have ruthlessly dealt with people who have little or no faith in paper currency. There are many tools in the government's kit to knock down gold as a currency haven. This is why I don't bother with such things. You see, the only really safe investment is to organize with others to effect political change. Period.
Of course, all governments resist changes and ours is certainly at the head of the class in this regard. The seeming wealth of America is all fake. We have mortgaged our future and will pay through the nose for it and running off to gold when our currency tanks won't work.
One can avoid personal danger by avoiding certain things: houses that consume vast quantities of energy to be habitable, deep high interest debts, learning how to eat healthy and be as fit as possible and of course, be aware and alert and be able to step into the public arena and take a stand---these things are the key to a good future. This is why I am often antiwar. I feel, unless there is really good reason to fight, sacrificing lives and our finances on risky imperialist adventures is a bad choice as we can plainly see today.
Speaking of community exerting influence, in my Ford articles about the decision to cut off all contact with the gay community has not only backfired but forced Ford to backpedal.
From CNN:
Advertisements featuring Ford Motor Co.'s eight vehicle brands will run in gay publications, the automaker said Wednesday, acting after gay rights groups complained when Jaguar and Land Rover pulled their spots.

Ford is not ordering those luxury brands to resume their specific ads. Rather, the company's ads in the publications will promote all of its lines, which also include Ford, Lincoln, Mazda, Mercury, Volvo and Aston Martin.
Kudos to Americablog and John Aravosis!
See what he managed? Just using the magic of the internet, he forced a major corporation to change course. It is a small but significant victory and should teach us that giving up is stupid, fighting back is smart!
This blog isn't as big as Americablog but we are just one tiny vioce in the growing chorus of activists. The more we support such blogs and join in various actions including spreading information the mainstream supresses, our success at forcing the Downing Street Memos into the public eye in America is just one of many examples of how even this small effort on the web is possible.
We can, over time, win even more victories. I hope, a great number of them. Thank you, readers, for joining me on the web. Onwards and upwards! Have hope and faith in ourselves. We can win.
To return to homepage click here
To read more financial news click here
Washington Pest