Sales of American Cars Collapses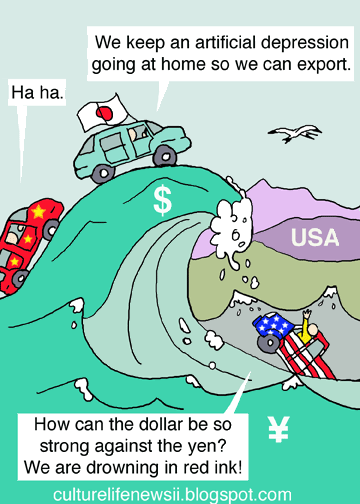 By Elaine Meinel Supkis
After selling many cars at near zero profit, the fire sale ends with the native auto industry burned to the ground as domestic sales collapse. Meanwhile, the yen is at a two year low vs the dollar which is totally insane but easily explained.
From Business Times:
US car sales fell sharply in October, dampened by hurricanes, fidgety consumers and high petroleum prices.
Demand was down after a summer of heavily hyped discounts, and carmakers warned that they don't expect an upswing in November.

General Motors (GM), Ford and Nissan reported big declines yesterday, while Toyota and Honda edged up and DaimlerChrysler's sales were flat. Sport utility vehicles (SUVs) took the biggest hit across all makers. Sales of the Ford Explorer, Lincoln Navigator, GMC Yukon, Hummer H2 and Toyota Land Cruiser were all down.

October sales were down 11 per cent industry-wide. The seasonally-adjusted annual sales rate was 14.7 million vehicles, indicating what sales would be for the full year if they remained at the same pace for all 12 months, according to Autodata Corp. Full-year sales for 2004 were 17 million.
No surprize. Interest rates in America continue to climb. No end in sight. To make people feel good about this, the Fed explains that this is to "fight inflation" as if it were some sort of medicine that fixes things instead of a thermometer that simply records the damage.
From the Taipei Times
Undaunted by back-to-back hurricanes and higher oil prices, the US Federal Reserve raised short-term interest rates on Tuesday for the 12th time in a row and made it clear that more increases were on the way.

In a statement, Fed policymakers said the economic disruptions caused by hurricanes were essentially transitory and signaled that they were more worried about higher inflation than about slower growth.

"Elevated energy prices and hurricane-related disruptions in economic activity," the central bank said in raising the rate to 4 percent from 3.75 percent, "have temporarily depressed output and employment."

The decision means that the Federal Reserve is almost certain to raise rates at policy meetings next month and in January, and it will probably keep going after Alan Greenspan retires as Fed chairman at the end of January.

In effect, Greenspan's last act as chairman amounts to a carefully choreographed effort to shore up the Fed's credibility and gently reverse an extraordinary period of cheap borrowing.
Hahahaha. I love economic propaganda. It is so much fun to rip apart! First: "Undaunted by back-to-back hurricanes" is ridiculous. Far from undaunted, the darn hurricanes are direct causes of interest rate hikes because we need to attract loans so we can borrow like fiends! If we lowered interest rates, all that money flowing so seemingly effortlessly into America would dry up, wouldn't it?
We eat the vast majority of world available funds. Barnacle Bill, our new incoming Fed chief, dreams that this is because the world is awash in "savings" seeking a home. Golly. So the Fed makes a bed for this money. By raising interest rates. Japan, a land awash in savings seeking a home, can keep their rate at effectively zero so their industrialists don't have to raise charges to pay for loans, it is practically a gift to them.
So they expand with little struggle. And their auto industry is ballooning like crazy vis a vis the American auto industry which is in near collapse.
The fiction that Greenspan is "carefully coreographing" this mess is probably the most laughable part of the article. Think he wants to raise interest rates? As it goes up, he fellow Skull and Bones conspiritor's public support collapses, Bush is at 33% approval now! Gads! The "extaordinary period of cheap borrowing" was simply the time frame when China joined Japan in buying American debts and extending increasing credit to keep us borrowing. What happened to this?
Look a the yen vs the dollar:
The dollar is at a historic high vs the yen!
116 yen to the dollar! Isn't that funny, NO. We have a yawning trade deficit with Japan. We have to borrow $100 billion a year from Japan to keep our own government afloat. Why is Japan bankrolling this mess? Eh? Well, today's headlines is, Japanese cars are now the majority of the American car markets! Ha ha, time for Koizumi to visit the War Shrine and laugh in our faces. This is why America was the only WWII ally against Japan to NOT protest this. We sat aside and drooled, begging in rags for crumbs from the people we "defeated". Remember, wars are won on many fronts. If someone surrenders yet takes over the winner's nation totally, this is victory, not defeat!
And Japan just won WWII. It took quite a few years to achieve, they did it.
From Xinhuanet:
China's car exports soared dramatically this year, with the exports totaling 18,988 units in the first three quarters, up 174 percent year-on-year, latest statistics from the General Administration of Customs showed.

The cars exported valued at 152.3 million US dollars, the customs said.

During the January-September period, China exported a total of 650,000units of vehicles valued at 1.33 billion dollars, including1,282 units of cross-country vehicles and 368,000 units of small passenger cars, which accounted for 70.1 percent of the total.

The exports of large and medium-sized passenger cars and truckscame to 4,546 units and 73,569 units, a year-on-year increase of 41 percent and 128 percent respectively.
And here comes the tidal wave. When a tidal wave is out at sea, it looks like a bulge but as it approaches the shoreline, the wave rises and rises until it towers over everything, sweeping all away with its force.
When American unions were organizing, they were always under tremendous pressure from the rulers to not exist. Even killing workers was used to stop them. Then communism took over first Russia thenn quite a few countries including China. The workers' unions which up until then, had the "workers of the world unite" idea because they realized you can't have unionized enclaves if the real rulers can move operations to any country they desire, the concept of international organizing was very strong.
Wounded in WWI, it died in WWII. Rampant imperialism by America and Russia meant unionizing became strictly local and in America, anyone looking to internationalize union building was labled a commie and destroyed. The big unions backed this lunacy and became conservative bases which catered to members while ignoring the rest of humanity. So things got really great for a while, lavish wealth and power went to the workers who were unionized and protected by the government as anti-communist entities.
Then communism collapsed and the knives went to the throats of the now useless unions in America and now they have been pretty effectively killed. The unions fight a rear-guard action hoping to keep some of the loot they gained in the anti-communist years. They can't do this and now they are on the ropes, in the last bastion of American industry, the aerospace industry, the unions are being forced backwards relentlessly. In the auto industry, it is a rout. Give backs are the rule, no rises in pay or benefits and this is FOR FUCKING EVER.
Never again will they see the fruits of organizing. The only hope is to hyper-organize across the planet but this means fighting and dying. For the real rulers across the planet are determined to never see any unions anywhere, any time, ever again. This battle of wills is going to be hellishly hard for the owners of media hate unions, too, and desperately want to eliminate the last remains of their own unions as swiftly as possible so they are pretty much the enemy, not the friend of unions.
Unions, unable to understand all this due to the fact they cut off all their own labor history and information and work on the capitalist-anti-worker model, can't even keep a united front in America, the AFL-CIO being AWOL-RIP. They can't hire writers like myself because they are frightened if I mention Karl He-who-should-not-be-named. This absurd state of affairs will have to go into total collapse which is due, thanks to rising interest rates and falling wages. These twin forces are like hurricane winds as they slide into warm waters of raging inflation. This developing storm won't be pretty, it will be awful. I hope we all survive it but note, the Fed is boasting about how they are carefully "controlling" the incoming recession/stagflation!
Yeah, and the captain of the Titanic steered it straight down deliberately.
To return to homepage click here
To read more financial news click here