GAMBLERS GRASPING AT STRAWS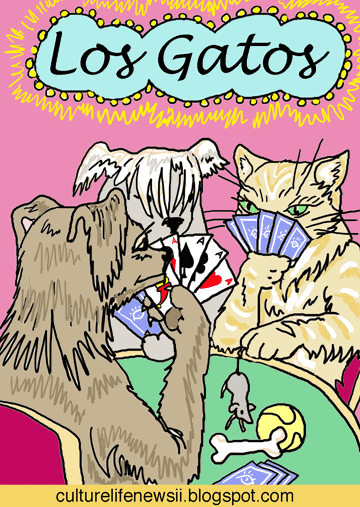 By Elaine Meinel Supkis
Bennett, under fire for being a racist pud, famously didn't mention gambling as one of the old fashioned deadly sins when he wrote that masterpiece in hypocricy, "The Book of Virtues" but face it: gambling is a worse drug than heroin. Many of the "businesses" destroyed in Mississippi by Katrina were gambling outfits set right off-shore, many designed artfully to look like what they are in actuallity: pirate operations out to loot the land. They were wrecked by the hurricane but are about to be rebuilt on land in greater numbers because Mississippi, a right wing "moral" state that votes heavily Republican, decided to ditch their morals totally and embrace Abramoff's alluring world of mixing money and politics and lust.
Wall to wall casinos.
From Yahoo news:
Mayor C. Ray Nagin hopes to attract tourists and their cash back to his ravaged city with an "out-of-the-box" plan to install Las Vegas-style gambling in the city's biggest hotels.

Nagin put forth the casino proposal Friday as a way to jump-start New Orleans' economy and help its people get back to work in the wake of Hurricane Katrina.

The plan calls for a large-scale gambling area in the city's central business district, stretching from Interstate 10 on the west to the Mississippi River on the east.

"Now is the time for us to think out of the box. Now is the time for some bold leadership, some decisive leadership," Nagin said.

Nagin said gambling should be allowed in hotels that have more than 500 rooms, the majority of which are near the city's famed Canal Street. The plan would require legislative approval.

Gambling is already allowed using video machines in roughly half of Louisiana's 64 parishes, but there's only one full-scale, land-based casino, operated by Harrah's Entertainment Inc., in New Orleans.

Harrah's downtown casino has been closed since shortly before Katrina hit and the company has not given a timetable for possibly reopening the gambling hall.

Also, three dockside riverboat casinos operate in the New Orleans.
So, New Orleans will extend and deepen gambling. This is typical American "thinking outside of the box." Amazing. I would say, this is the first solution everyone comes up with. Like in those old Judy Garland movies where they decide to raise money by putting on a show, now they roll dice. I wonder why Nagin didn't announce rebuilding Storyville, the prostitution haven of yore! Heck, DC is a prostitute heaven. Why not?
Abramoff could set it up for him, too!
Gambling brings demoralization. The Police Chief recently resigned and the forces there are in a foul mood. The news that cops stole over 200 new cars right before the hurricane is interesting. Some were caught on video tape looting stores. So now they are retaliating.
From Yahoo:

The APTN tape shows an officer hitting the man at least four times in the head Saturday night as he stood outside a bar near Bourbon Street. The suspect, Robert Davis, appeared to resist, twisting and flailing as he was dragged to the ground by four officers. One of the four then kneed Davis and punched him twice. Davis was face-down on the sidewalk with blood streaming down his arm and into the gutter.

Meanwhile, a fifth officer ordered APTN producer Rich Matthews and the cameraman to stop recording. When Matthews held up his credentials and explained he was working, the officer grabbed the producer, leaned him backward over a car, jabbed him in the stomach and unleashed a profanity-laced tirade.

"I've been here for six weeks trying to keep ... alive. ... Go home!" shouted the officer, who later identified himself as S.M. Smith.

Police said Davis, 64, of New Orleans, was booked on public intoxication, resisting arrest, battery on a police officer and public intimidation. He was treated at a hospital and released into police custody.

"The incidents taped by our cameraman are extremely troubling," said Mike Silverman, AP's managing editor. "We are heartened that the police department is taking them seriously and promising a thorough investigation."
This has some troubling threads. One is the continuing assault on reporters by our military/militias. We have been on a murderous rampage against reporters in Iraq and this war is spilling over into America. Despite "Cops" and other TV shows glorifying the police, in reality, they despise being filmed. Like the paramilitary troops in London who killed the man from Brazil, they want to keep the tapes secret if they show bad police work.
Delphi, a huge American company that still manufactures hard objects, namely car parts, just declared bankruptcy. As Ohio and Detroit sink ever lower, the temptation to turn the joint into a gambling den grows. But it always begs the true problem: how can people earning $10 an hour spend a huge amount playing with Lady Luck? Eh? Ain't happening. The death spiral of America will only accelerate. Gambling spreads bankruptcy and suicide and murder. It eats up family financing and is an addictive force.
Bennett lost over 70% of all his royalties, gambling futilely.
Lady Luck gambles only with Mother Nature. They laugh as they take turns, rolling the knucklebone dice. Snake eyes!
To return to homepage click here