FUNNY MONEY--MONEY MAD
Demonstrators today in DC thanks to Moveon.org
By Elaine Meinel Supkis
A new hurricane following the track of the previous one, stalled out next to Florida and is gathering strenght, churning away there. Hurricane Fran did this, too. She caused a lot of destruction especially overflowing pig ponds in Georgia and destroying beaches and such. The Feds spent many millions putting sand back on the beaches for the rich vacation home owners. Seems they are good at that.
There seems to be total confusion about getting money to the dispossessed. It was grandly announced this morning and the news traveled like wildfire, $2000 per victim adult (kids get nothing?!!). So a mother with five children gets the same as an elderly man who is alone. Yeah, this is going to work.
The poor can't imagine a nicer boon despite the obvious inequality. They have literally nothing and it is past the first of the month, the hurricane hit the same day frames that the elderly and poor get the monthly checks so they need something, anything! But as everyone became expectant, the offer altered by the hour. Last I heard, they were going to get checks and only if they can produce 2 ID and a letter showing they lived where...
My god. I really can't stand this stupidity. Ack.
What happened was what I did on my trusty calculator: someone rang up how much money this would be and then blanched. Spending $2 billion on Halliburton is OK. Giving it to poor people so they can do whatever they want=revolution.
So they will be literally short changed. The option will be, to sit there idle and accept old clothing and cheap food and odds and ends while living on exactly one cot in a cavernous hell or to escape and restart somehow. Penniless, this can't be done unless one mugs or steals from someone else, pronto.
Now I used to be a hippie in SF in the sixties. I know all about how to get bread without holding down a real job. But asking mothers with small children means either they turn to prostitution or begging or both. Most likely both.
Men? Mugging and second story work.
The real muggers reside in DC. I pulled up this story today and it thoroughly enrages me because we New Yorkers complained loudly that virtually none of the 9/11 money for businesses or security came to our city. It was spread like peanut butter and jelly all over America in huge amounts and spread thinly here where it matters.
From Yahoo:
The government's $5 billion effort to help small businesses recover from the Sept. 11 attacks was so loosely managed that it gave low-interest loans to companies that didn't need terrorism relief — or even know they were getting it, The Associated Press has found.

And while some at New York's Ground Zero couldn't get assistance they desperately sought, companies far removed from the devastation — a South Dakota country radio station, a Virgin Islands perfume shop, a Utah dog boutique and more than 100 Dunkin' Donuts and Subway sandwich shops — had no problem winning the government-guaranteed loans.

Dentists and chiropractors in numerous cities, as well as an Oregon winery that sold trendy pinot noir to New York City restaurants also got assistance.

"That's scary. Nine-11 had nothing to do with this," said James Munsey, a Virginia entrepreneur who described himself as "beyond shocked" to learn his nearly $1 million loan to buy a special events company in Richmond was drawn from the Sept. 11 program.

"It would have been inappropriate for me to take this kind of loan," he said, noting that the company he bought suffered no ill effects from Sept. 11.

Arvind "Andy" Patel, 50, said he used his $350,000 loan in fall 2002 to remodel his Dunkin' Donuts shop in western New York state and never knew it was drawn through the Sept. 11 program.

"Not at all," Patel answered, when asked whether his business had been hurt by the attacks.

Government officials said they believe banks assigned some loans to the terror relief program without telling borrowers. Neither the government nor its participating banks said they could provide figures on how many businesses got loans that way.

But AP's nationwide investigation located businesses in dozens of states who said they did not know their loans were drawn from the Sept. 11 programs, suggesting at least hundreds of millions of dollars went to unwitting recipients.

The Small Business Administration, which administered the two programs that doled out Sept. 11 recovery loans, said it first learned of the problems through AP's review and was weighing whether an investigation was needed. But officials also acknowledged they intended to spread the post-Sept. 11 aid broadly because so many unexpected industries were hurt.

"We started seeing business (needing help) in areas you wouldn't think of — tourism, crop dusting, trade and transportation. ... So there were a lot of examples you wouldn't think of, at first blush," SBA Administrator Hector Barreto told AP.

In all, the government provided, approved or guaranteed nearly $4.9 billion in loans, and took credit for saving 20,000 jobs. That would put the average cost of saving a job at about a quarter million dollars each.

Of the 19,000 loans approved by the two programs, fewer than 11 percent went to companies in New York City and Washington, according to an AP computer analysis of loan records obtained under the Freedom of Information Act.

"I had nothing here," said Shirla Yam, who runs a clothing store in the former shadows of the twin towers that got a $20,000 grant from a local advocacy group but no federal aid after Sept. 11. "I don't know if I'll be here next month."
Now how did all this loot end up in banks across the land? Want to know?
Ask K Street. In the news recently was the astonishing story that since 1/22/1, the number of lobbyists in DC went from 5,000 to 12,000. More than doubled. This is off the top of my head. We know the banking/loan guys have been pouring money and effort into changing laws and grabbing funds, look at the bankruptcy bill! And one thing they did was leap upon the carcasses of the poor office workers in Manhattan and like the vultures they are, they conspired with the GOP to steal this money and ship it to the far corners of America.
This money doesn't come cheap. It comes from the Japanese and Chinese governments and they expect many things in exchange for it. It drove our debt way up....so people could redecorate their donut stores? We are going to pay for this through the nose as well as a tremendous loss of power overseas! Talk about government waste!
Just as the blusterers were not serious about chasing down bin Laden, they were not serious about building NYC back up and defying terrorists much less protecting us from them...they viewed the dead as a great business opportunity. True, the 9/11 families got lots of money for themselves...to shut them up. But Katrina's victims are far too many. To seriously take care of all of them requires spending an average of $20,000 per family for the next year. Multiply this by a million and your head will spin.
Already, the unemployment paperwork is pouring in, about 500,000. The measly job numbers for August, 123.000 jobs, nearly all service or real estate, will be swamped by Sept. numbers. I recieved an email from a reader concerning the state of oil production and refining. According to various stories, all is well but anyone looking around can see something stinks. The oil companies are making huge profits in an emergency and this is roiling the rest of the planet which is why so many countries have released stored oil to bring down the price. But evidently, the damage to the rigs and system down there is very severe and isn't in the news and I certainly believe this myself because I scour for pictures of oil wells and got virtually none just like after the previous hurricane.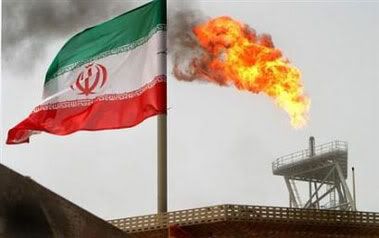 Here is one! Only it is about Iran! They got oil! And more importantly, they are preparing to open an oil market sort of like ours, one that buys and sells oil on the open market...for euros.
Sounds familiar? It should. This is what Saddam set up right before America attacked him. This time, we can't attack Iran because the Chinese are their allies now. And the Chinese own us. Sigh.
Back to why the Chinese own us now. Last year, on Labor Day, southern Florida got a huge boon from the government after Hurricane Frances brushed by southern Florida.
From the Sun Sentinel:
Hurricane Frances hit South Florida Labor Day weekend, 100 miles north of Miami-Dade County, but Sun-Sentinel reporters found that the federal government approved $28 million in storm claims there for new furniture and clothes and thousands of new televisions microwaves, refrigerators and other appliances. The Federal Emergency Management Agency paid for new cars, dental bills and a funeral even though the Medical Examiner recorded no deaths from Frances. In an ongoing series of reports, the newspaper also found FEMA inspectors were given only cursory training and attributed damage to tornadoes - there were none recorded in the county - and in six instances listed "ice/snow'' as the cause. The reports have prompted calls for investigations by federal and state officials and the beginnings of an inquiry by the Inspector General for the Department of Homeland Security.

FEMA gave $21 million in Miami-Dade, where storms were 'like a severe thunderstorm'
The four hurricanes that pummeled the rest of Florida hardly brushed Miami-Dade County. Only Hurricane Frances was a factor there -- packing the punch of a bad thunderstorm.
Here are some real victims of a very nasty hurricane, unlike southern Florida: the Louisiana National Guard.
As I predicted, they were near mutiny when they saw the news. Many of them have lost everything they own. They are angry and upset, they are also very restive. According to the news, so are the police and sheriffs in the small towns dotting the coastline as well as the city and suburbs surrounding New Orleans. Very quietly, the government is bringing all of them home. Now the other National Guard want to go home too.
They are correct. This is where they belong. We need them here. No ifs, ands or buts. If America takes any more blows, we sink.
The American Energy Sec. Bodman (Oilman) and his very good buddy, Ali of Saudi Arabia, have a big laugh today when appearing together to talk about how we are going to either pay through the nose or freeze to death this winter.
From Yahoo:
The U.S. economy will face a tough winter due to high energy prices caused partly by a disruption in oil and natural gas supplies from Hurricane Katrina, U.S. Energy Secretary Sam Bodman warned Thursday.

ADVERTISEMENT

"There is no doubt that this is going to be a very tough winter season for the American economy (and) for American homeowners," Bodman said in an interview on the Fox news channel.

The Energy Information Administration said on Wednesday Americans who warm their homes with natural gas could see their fuel costs jump by as much as 71 percent this winter in some parts of the country.

Residential heating bills for heating oil will increase by 31 percent, and electricity users will see their costs rise by 17 percent, the Energy Department's analytical arm said in its latest monthly energy forecast.

Separately, Bodman said he expected the drop in crude oil prices from last week's record of over $70 a barrel to be passed on to consumers in the form of lower gasoline costs.
Expect the ghoul, Greenspan, to say there is no inflation since no one is buying anything but energy, the price of all other things will drop even more.
Yeah. That's the ticket!
And the final item in the grocery basket of goodies:
War and Peace:
The guy who callled me back yesterday who was supposedly a spokesman for FEMA? It turns out the WaPo reported as recently as March 2005 that he had been hired as one of three staffers to run a Bush administration Social Security "war room", modeled on the "Coalition Information Centers that promoted the administration message around the world during the war in Afghanistan":

The Treasury Department yesterday announced the formation of a Social Security "war room" and the hiring of three full-time employees to help coordinate and refine the administration's message on the issue. The war room, which the administration is calling the Social Security Information Center, will track lawmakers' remarks to their local news outlets, to help the White House detect signs of Republican concern or Democratic compromise.

The office, modeled after the Coalition Information Centers that promoted the administration message around the world during the war in Afghanistan, will also help target speaking trips by top administration officials...

The center is to be headed by Mark Pfeifle, an administration veteran who has been a spokesman for the Interior Department and last summer's Republican National Convention. Working with him will be Shannon Burkhart and Jill Willis, both of whom worked on the Bush-Cheney reelection campaign. The three were hired about two weeks ago.

What's he doing at FEMA now? Is FEMA's only purpose under the Bush administration to do damage control and photo opportunities for the Bush administration? What was it doing 10 days ago? Where were all these folks who should have been applying their skills doing emergency management? When did their contracts start? Were they hired on the plane back from the Devenish-Wallace wedding party?
I am parking this item here so I can google all the names tonight at some time. These criminals are all from the same den. Flushing them out is quite a job.
I will end this tonight with this warning: the press, taking advantage of many people's racism, has decided Bush will get another brush off and they are now propping him up yet again...all for those wretched tax cuts he dangled in their faces this last week.
This is why there are zero reports in American news about the Chinese diplomatic initiatives nor has there been even the slightest word about where the $50+billion we need just for this month alone, coming from. Nada. Certainly not from the oil companies!
To return to homepage click here