BAD NEWS BEARS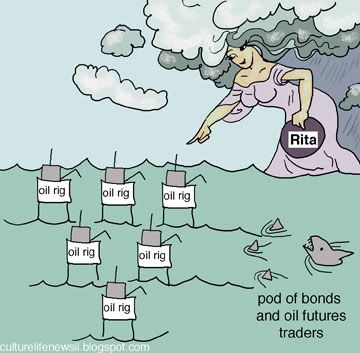 Cartoon by Elaine Meinel Supkis
By Elaine Meinel Supkis
After cutting off service to hospitals filled with the very ill and very helpless all so the work crews could concentrate on getting more gasoline running up for motorists driving fat SUVs, the government assured us all the nightmare was over and all was well and OPEC was going to humor us all and funnel all the world's oil into America and thusly, bring prices down.
Simultaneously, this coincides with Bolton removing all script in the UN concerning protecting our planet. And this month, the Kyoto Accords is now in effect for everyone but...the USA. Heck, even Russia is going to follow the protocols!
As usual, Mother Nature, in her kind and loving way, has decided to play ninepins with our oil rigs in the Gulf of Mexico and so, up goes the price of oil, down goes more rigs and la de dah all the way home. Right? The first hurricane to slap down our rigs several months ago (as detailed in this news service here!) the media tried to minimize the damage, deliberately supressing photos of messed up oil rigs.
As they scrambled to fix those, Katrina poked around, knocking over many more and ripping apart the main port for transfering oil to facilities for processing it and land transportation systems. They couldn't pretend all was well but they tried, oh, they tried! "Only a few rigs were destroyed! The port is sort of OK, the refineries can run...after we drain out the places...And so it went...pretending that oil will flow effortlessly, never mind those dead bodies in the way! Who cares? They were probably going to die anyway!
Ever see "Metropolis" by Fritz Lang? It is a silent German film about workers being abused. In one scene, the machinery blows up and bodies fly everywhere. They are cleaned up and a new crew hoves into view to keep it running at all cost. This is the hard facts of the hard world we are entering.
From Bloomberg:
Crude oil, gasoline and heating oil rose for the first day in three on forecasts Tropical Storm Rita will strengthen into a hurricane, threatening refineries and natural gas production in southern Texas by the weekend.

Four refineries along the Gulf of Mexico coast may not resume output until next year after Hurricane Katrina damaged them last month. U.S. natural gas futures jumped as Rita headed for producing areas. OPEC, meeting in Vienna today, is close to an agreement to offer customers all the crude it can pump.

``The storm situation is of concern, obviously, from the point of view of the damage that Katrina has done,'' said Kevin Blemkin, a broker with Man Financial in London. ``Going into the fourth quarter, refineries are going to be the main issue. There's no shortage of crude, so I don't think more output from OPEC is going to be necessary at this time.''

Crude for October delivery climbed $1.10, or 1.8 percent, to $64.10 a barrel on the New York Mercantile Exchange at 11:47 a.m. London time. Prices have declined 9.5 percent from a record $70.85 on Aug. 30. They have still almost doubled since the end of 2003.

Katrina forced at least eight refineries in Louisiana and Mississippi, accounting for about 10 percent of U.S. refining capacity, to close as it battered the Gulf coast on Aug. 29. Rita would be the ninth storm this year to enter the Gulf; five, including Katrina, have disrupted production or refining.

``Refineries are running at full speed already,'' said Adam Sieminski, chief energy economist at Deutsche Bank AG in New York. That's ``compounded by the problem that 5 percent of U.S. refining capacity got knocked out by Hurricane Katrina.''
Over and over, the leaders tell us, there is no inflation...heh....And today? Last month's inflation was 0.8% EXCLUDING FOOD AND FUEL!. Add those babies and it is a roaring hot fire!
From the Chicago Sun-Times
Hurricane Katrina triggered the biggest one-week surge in jobless claims in nearly a decade, and analysts warn that's probably just the beginning of the bad economic news ahead as the nation starts paying for the most expensive natural disaster in U.S. history.

Consumers, already feeling the pinch at the gas pump, should be braced for price increases for various products and services. Everything from food to furniture to shoes could start becoming more expensive as retailers pass on higher shipping costs to consumers.

''We are just starting to see the impact of Katrina. We are going to see awful inflation numbers, awful employment numbers and awful industrial production numbers for a few months,'' said Nariman Behravesh, chief economist at Global Insight.
Ya don't say? Bubble Boy Bush said we don't need tax hikes nor do we need to change our lifestyles nor alter any jot or whit of anything. All is going well. Greenspan marvels at how well America runs minus a major city, with fuel costs through the roof and thousands of people dying all over the place.
Well, they aren't dying on 65th and Park Ave in Manhattan! Hey, the view looks good from there!
Now for the real fun guys, the vultures who deal in bonds. A gloomy, green eyeshade group, they are getting restive. Nervous. Seeing the dead pile up, brings them closer to look. Hmmmm. Sharpen those knives.
Bloomberg again:
Wall Street's biggest bond-trading firms cut their forecasts for the 10-year Treasury yield after Hurricane Katrina sparked some doubt that the Federal Reserve will raise interest rates tomorrow for the 11th straight time.

The note's yield, a benchmark for company borrowing and mortgage loans, may reach 4.48 percent by year-end from 4.26 percent today, based on the median estimate of the 22 primary dealers of U.S. government debt that trade with the Fed. The median was 4.63 percent in a survey published Aug. 8.

The costliest U.S. natural disaster drove consumer confidence to the lowest since 1992 and led economists to cut their growth estimates. Economists at four firms including UBS Securities LLC said the Fed won't increase its benchmark interest rate tomorrow -- the first time since at least May when all 22 haven't agreed on higher rates.

``With Katrina the potential for rates to stay lower than they otherwise would have is greater,'' said Gerald Zukowski, deputy chief economist in New York at Nomura Securities International Inc., who forecasts the Fed will leave rates unchanged tomorrow. ``If the Fed pauses, it takes additional reasons away for yields to rise.''

Nomura predicts a 4.25 percent year-end 10-year note yield, down from 4.6 percent in August. HSBC Securities USA Inc. and Merrill Lynch & Co. are the other firms that said the Fed will keep its key rate at 3.5 percent tomorrow.

Estimates for the 10-year note's yield at year-end range from 4 percent at HSBC to 5 percent at Bear Stearns Cos., Deutsche Bank AG and UBS.
The only reason they are not running around with a necklace of skulls and sword in hand like Kali is because they have been assured by China that China wants America intact for future use. After all, a totally rancid country isn't fun, is it?
Look at Iraq, home once to one of the seven wonders of the earth: the hanging gardens of Babylon!
&spades Lastly, the Sept. 24th marches, yes, there is more than one!---are on going. And DC is planning for them, for the IMF and World Bank will be meeting to talk about our debts and our obligations and worry about the French Revolution which had NO commies yet still killed off the aristocrats.
They are scared.
From the Washington Post
The umbrella organizations staging the rally -- United for Peace and Justice and the ANSWER Coalition -- say they represent thousands of people and dozens of causes. They obtained permits for public areas that can hold about 100,000 people.

Organizers are asking protesters to gather at 11 a.m. Saturday on the Ellipse, where the rally is scheduled to take place. The march will cover a stretch of streets in the blocks surrounding the White House and Justice Department and wind up at the Washington Monument, organizers said.

Counter-demonstrators, who are planning rallies before and after the antiwar gathering, are expected along the march route.

To control crowds, D.C. police officials said they will have dozens of officers directing traffic at 110 spots. Other officers will be stationed along the march route. D.C. police said staffing levels in the city's police districts will not be affected by the special deployment.

U.S. Park Police will join D.C. police in the crowd-control effort. Park Police also have canceled days off for officers who patrol the Ellipse and other federal areas where the main antiwar rallies are to be held. Scores of Park Police officers will be in uniform Saturday, including some on horseback and bicycles.

Undercover officers will mingle among demonstrators. Others in riot gear will be ready to respond to an emergency, said Park Police Sgt. Scott Fear.
Yeah, undercover cops! We know them well. If someone suggests people do something illegal like throw rocks or run into buildings or attack the police, well, undercover cops at demonstrations need to make things happen, don't they?
We call them "agents provocatures".
To return to homepage click here