MEET OUR FINANCIAL JESTERS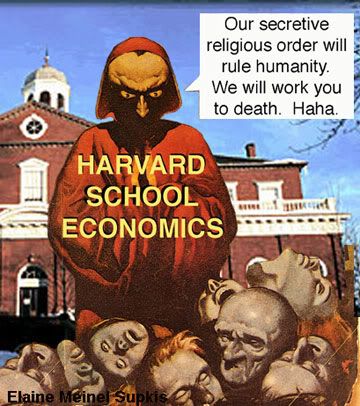 By Elaine Meinel Supkis
This is the typical business news story. Ho hum. But read it with me!
From CNN:
Getting a 34-year Harvard man to abandon one of the nation's most prestigious business schools for an Idaho church college seems like a task that would demand divine revelation.

For Kim Clark, who left his post as Harvard Business School dean last week, it came down to the next best thing.
OK. The head of the Harvard Business school is a religious kook.
Clark's move, viewed from inside the church, could be seen as a promotion: Some say this establishes Clark, a former Mormon bishop, as a rising star. His predecessor as university president, David Bednar, was named in 2004 to the "Quorum of the 12 Apostles," a church governing body considered by Mormons to have the same authority as the 12 Biblical apostles.
OK. He is a bad as those sexual uptights running Opus Dei. Note how all these religious nuts promote and support each other. They network like crazy, weaseling into postions of responsiblity. Religious right wingers of all faiths are busy doing this. There are many possible good choices for Harvard and they chose this lunatic.
In leaving his $407,000 post at Harvard, Clark steps from a platform that lent him instant gravitas. An expert on the international automobile industry, he sits on boards at JetBlue Airways and toolmaker Black & Decker. BYU-Idaho officials won't say how much he'll earn in Rexburg.
Um, I could run classes about internation/American car business models and explain all sorts of things to everyone and I could do it for a lot less, like, for free.
But then, I don't belong to the right wing flat earth conspiracy, do I? What I want to know, is how this man became an "expert" in international autos?
Clark, Kim B., and Takahiro Fujimoto. Product Development Performance: Strategy, Organization, and Management in the World Auto Industry.
(Harvard Business School Press, 1991) (HD 9710.A2C57 1991)
What a surprize. He works with the Japanese.
"The Product Development Imperative: Competing in the New Industrial Marathon," in Duffy, P.B., ed., The Relevance of a Decade, Business School Press, Boston, 1994 (with K.B. Clark)
Why are we losing this industrial marathon? Is it because our coaches are on the other team?
Seriously, this is the nub of the whole illness killing us. I have argued on campus with these guys and to a man, the top professors, well paid and smug, are happy about destroying the great American working class. Killing unions is their mandate and they succeeded. Working hand in claw with the mighty industrialists who want us all slaves, they happily teach how to destroy people's lives and lo and behold, they are succeeding wonderfully! They don't even have to fear elections anymore, they destroyed our ability to count votes or stop the tidal wave of bribes that corrupt our system hopelessly.
As all the numbers rack up this year, all pointing to a hell that we can't avoid by merely changing course, we can thank monsters like Professor Kim Clark and his ilk.
Oh, and now that the job is open at Harvard, my mountain isn't far away. I will be happy to work for $400,000 a year only I will not write stuff that helps the very rich.
So much for that job offer!
To return to homepage click here