Millstones Around Our Necks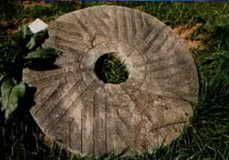 Old British millstone
Every few weeks our government and our media desperately try to pump up the good numbers and ignore the bad numbers. This bailing effort would be amusing if it weren't so destructive in the long run. A sober analysis of what is happening is required. Giddy is for school girls dreaming of rock stars or movie lovers.
So after the hysteria about the "good news" concerning jobs which some commentators like here, discounted or read as negative news,
along comes this news:
U.S. stocks pared early gains Friday morning as a disappointing reading on consumer sentiment took some of the shine off a positive earnings report from Dell Inc.
sdaq Composite Index ($COMPQ: news, chart, profile) , which saw its gains whittled to 15 points from some 25 points in the early going, was last at 1,972, down from its early high of 1,988.

The Dow Jones Industrial Average ($INDU: news, chart, profile) was up 2 points to 10,191 and the S&P 500 ($SPX: news, chart, profile) lost 1 points or 0.3%, to 1,158.

Decliners led advancers by an 18 to 11 margin on the New York Stock Exchange but were about even on the Nasdaq. Big Board volume was about 280 million shares while some 350 million shares traded on the Nasdaq.
We assume random investors didn't get too hyped about Dell's good news after being badly burned by the GM fiasco when one man, seeking to destroy GM, bought a surprising number of shares, driving up the price hugely, then GM gets down graded to junk status. Boing.
The stock market has languished ever since oil prices shot up. If we subtract oil and military industries from the index numbers, it doesn't look good, does it? For the last ten years, companies announcing cut backs and mass firings have flourished in the stock market thanks to the propaganda about capitalism being "red in tooth and claw". Funny how there is debate about Darwin even as our rulers apply Darwininan laws of survival upon us.
Today's news is about consumers being unhappy. Well. Knock me over with a lawn tractor! If any economist or business news writers were to talk to real human beings this horrible fact jumps out immediately: high fuel prices are causing great pain. This pain is right where people can't cut back drastically. You sitll have to commute to work, for example. And the price of essential items is going up. This is pinching. The only good news is housing value is shooting to the stars.
Of course, this is terrible news.
Import Prices Surge
is today's NYT headlines. We spent a good ten years + outsourcing our inflation but now it is beginning to come home to roost. Additional stories tell us the incomes are not just stagnant, they are dropping.
So back to our home ATM machines: sometimes ancient fairy tales can be instructive.
Now Frodhi happened to be the owner of a huge mill, or quern, that no human strength could budge. Its name was Grotte, "the crusher." We are not told how he got it, it just happened, as in a fairy tale. He traveled around looking for someone who could work it, and in Sweden he recruited two giant maidens, Fenja and Menja, who were able to work the Grotte. It was a magic mill, and Frodhi told them to grind out gold, peace and happiness. So they did. But Frodhi in his greed drove them night and day. He allowed them rest only for so long as it took to recite a certain verse. One night, when everybody else was sleeping, the giantess Menja in her anger stopped work, and sang a dire song.

However obscure the prophecy, it brought its own fulfillment. The maidens ground out for Frodhi's "a sudden host," and that very day Mysingr, the Sea-King, landed and killed Frodhi. Mysingr ("son of the Mouse"—see appendix #6) loaded Grotte on his ship, and with him he also took the giantesses. He ordered them to grind again. But this time they ground out salt.

"And at midnight they asked whether Mysingr were not weary of salt. He bade them grind longer. They had ground but a little while, when down sank the ship,"
A magic machine that grinds out gold.
And the Asian Giants
must keep on grinding the gold only they grumble.
Governor Zhou Xiaochuan of China's central bank said here Friday overseas media reports on the expected appreciation of the Chinese currency, yuan, or Renminbi (RMB), on May 18 is not "correct."
"Can we take that seriously? Of course not," Zhou said in response to a question raised by Xinhua correspondent at a seminar sponsored by the Chinese Academy of Social Sciences.

"It is foreigners, especially some individual foreigners, who predicted yuan's appreciation on May 18,"
The Chinese are getting very angry with our ruler. Even as they invite pampered billionaires to come to China and do more business they grow irrtated with the whipsawing our government is giving them. They make it very clear they intend to move their currency when it will benefit them.
We are in the middle of a battle that is causing us grave injury. NASA is openly talking about ending all programs to concentrate on building some sort of post Shuttle vehicle because there is no money to run scientific things unrelated to humans in space and do the space trips, too. We just lost $300+billion in Iraq and this equals NASA's budget since it launched the Space Shuttle. This loss of money is biting harder and harder which is why our military is frantically closing bases in America so we can feed soldiers into the bloody Mill in Iraq hoping their blood will turn into gold. But fewer and fewer Americans and nonamericans are signing up. The Mill grinds on, grinding bones to dust. So we go back into our homes and the gold just pours out of them as the Asians pour money into our system. Grind, grind, grind.
Suddenly the Giantess turning this Mill will curse us and turn it all into salt. When that day comes, we are finished, you know.
Why aren't the economists and politicians and financial reporters raising an alarm about this?